Think like an agency, act like Lg2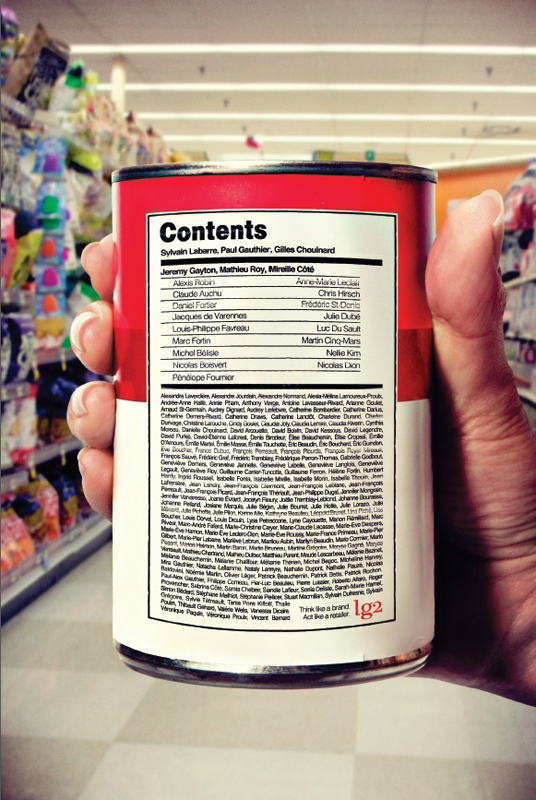 Lg2's new office is in the heart of Toronto's hip Liberty Village and encapsulates the industrial chic of the neighbourhood. The exposed brick walls, concrete floors and wooden beams contrast the '70s–inspired décor and bright red carpets in the boardrooms, creating a clean minimalist look. The rows of empty desks are waiting to be filled, and the kitchen is devoid of any signs of regular use. With a staff of four (soon to be six), the 7,000–square–foot space echoes as the trio of partners discuss what to put on the blank white walls (one wall in a boardroom has a giant 70–inch flat screen primarily used at this point to let partner and co–CD Chris Hirsch watch football).
Lg2's Toronto expansion has been a long time coming, but really came together this past May when it was announced that Hirsch and his partner Nellie Kim were joining the shop to lead creative. A few months later, Jeremy Gayton joined as partner and VP general manager.
Sitting in their new digs, the trio muse on when they first heard of Lg2.
"Over the last few years, it's really blipped on our radar creatively," says Hirsch. "Not just locally, but nationally and internationally."
"[Lg2 was doing] really super smart, simple work we admired from afar," adds Kim. "A lot of their work had an international flair to it."
Hirsch points to the 2012 Cannes Lions–winning Krispy Kernels campaign (an absurd spot in which a Kernel falls between seat cushions, and a man literally dives into the couch to retrieve it, led by Quebec City partner and CD Luc Du Sault) as the first time he really noticed the agency. (For his part, while at his former agency Taxi, Gayton says he frequently pitched against Lg2, and was always impressed by its strong craft in branding and design).
So when the agency approached the trio to help open up the Toronto shop, they jumped at the opportunity.
"There's a philosophy of 'Do good work, attract good people, attract good clients, and everything else will fall into place,'" says Gayton on what he admired about Lg2.
And it's that good work – namely for clients including QSR Valentine, the Société de l'assurance automobile du Québec and Valin (see below) – that really resonated with this year's DAOY judges, nabbing the agency Gold.
Mathieu Roy, partner and VP general manager of Lg2 Montreal, attributes its success to clients who set the right tone for the agency (i.e. those who agree that good–quality creative is the best way to move the needle on business), and its continued independence.
Founded in 1991 by Sylvain Labarre and Paul Gauthier, Lg2 launched in Montreal with the motto "Think like a brand, act like a retailer."
"To think like a brand means to instill its equity, essence and promise into the heart and mind of the consumer," says Charles Durivage, communications manager, Lg2. "It means creating a strong, distinctive and pertinent preference that gives the brand added value over the long run. To act like a retailer means stepping outside of the agency's four walls, defending the brand's positioning and expanding its reach, product by product, market by market, square foot by square foot, every single day."
Today, the company employs 200 people across three offices (Montreal, Quebec City and now Toronto) and works with big brands including Natrel, Desjardins and Bell, with roughly 30% of its revenue coming from clients outside of Quebec.
It started exploring new offices in English Canada in 2012, first bringing in Jason Chaney to help lead in Toronto. Chaney left earlier this year to join Cossette, but the agency continued its push to open a new shop, Roy says.
"We had a gut feeling that it was the right time [to expand into Toronto]," he says. "The industry is evolving – even more so in the last few months. The landscape is moving – lots of consolidation and opportunity to really be one of the last truly national independently–owned agencies."
Independence is paramount for the agency, he says. "The idea goes back to what the founders had envisioned a decade ago, when they decided to keep the company alive and independent," by taking a hard look at their future to determine how to leave their legacy, he says. "It enables us to have full control over the work and our decisions. It allows us to have a powerful and deeper relationship with our clients and a connection that is ownable to them and to our employees."
Without the big backing of a holding company, the agency decided to fund the Toronto office entirely internally, Roy says, allowing the new shop to focus on finding those right clients without the worry of financial debt held over them.
Gayton predicts that with its two new clients – both in the financial space (and yet to be named at press time) – the Toronto office will be solvent by the end of this year, a mere four months after officially opening its doors. "We've set the condition so that they wouldn't be chasing new revenue," Roy adds. "We're doing this expansion by choice – it's fun, it's stimulating, so we might as well put in conditions to attract some exciting and bold clients."