Grip redefines branded content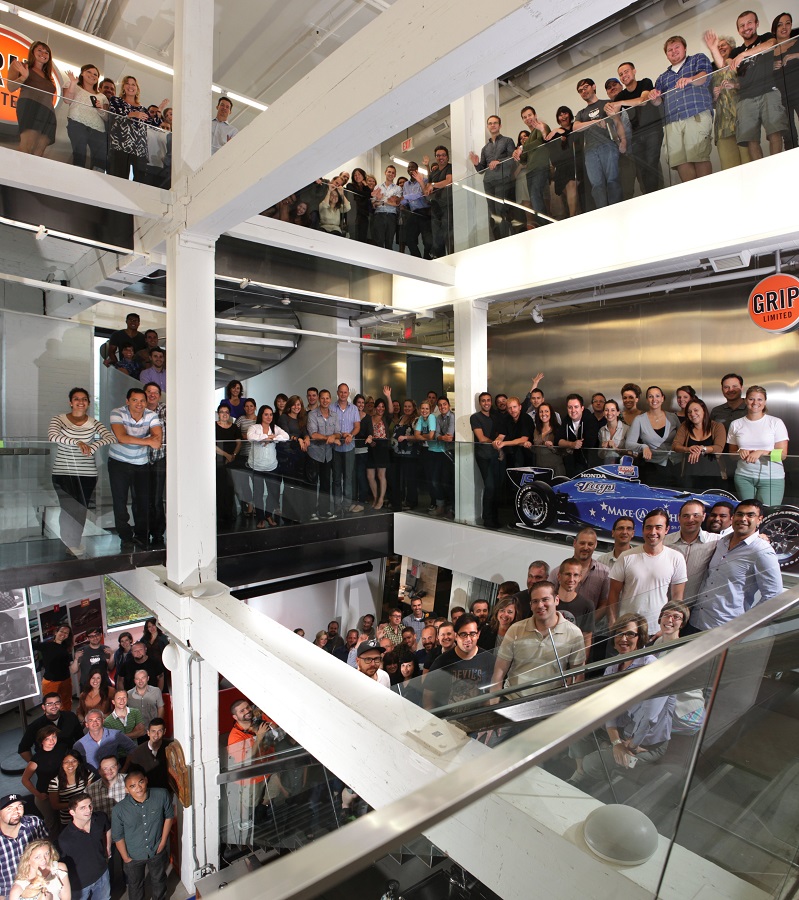 Grip has become a chameleon. It's not only a creator of ads — it's also a publisher, a perfumist, a brewer and something of a baker. The Toronto shop has published a coffee table book for Honda and a magazine for Lindt, all while brewing beers, baking taco shells and blending aromas for Kokanee, Taco Bell and Pizza Hut, respectively. Why? Because when you can create a physical extension of a brand, which people can take home and be with for longer than a 30-second commercial, "that's way more powerful," says Grip's partner, creative, Randy Stein.
Almost all of these branded products were digitally-driven via social video. For example, a series of behind-the-scenes videos were created when Taco Bell treated 12 Canadians to a firefighter-inspired photo shoot (with the images published in the QSR's "Fiery DLT calendar") earlier this year. And when KFC introduced its "Bucket Science" program, Grip produced an online video showcasing how the brand is transforming its signature packaging into things like the "Memory Bucket," which took Polaroid-style photos with a built-in camera.
Of course, since Grip's roots are in the beer biz (Labatt was its founding client) it's no surprise the shop is pushing ad limits in this space — even if that means having a man jump out of a plane and land thousands of feet below on a mountain peak to collect snow for a Kokanee brew. Grip approached the brand with the idea to scale seven mountains and collect snow from their peaks and then infuse it into a new brew (which the shop invented), aptly named "Peak Brew."
It was also one of the three projects that Grip entered into Digital Agency of the Year, helping the shop land its first-ever top prize in the awards competition (however, it did walk away with a DAOY Honourable Mention back in 2011). The brief from Kokanee didn't include crafting a new beer. It was much more simple than that. Essentially, the brand wanted Grip to promote the partnerships it has with seven ski hills in Western Canada.
"The brief was just to do a promotion, and we could have said, 'Hey, let's do a party at each hill,'" says Stein. "It was a fairly traditional brief, but certainly the expectations from the client, and from ourselves, wasn't to have a traditional response." The agency took on the role of product developer, and came up with the idea to tap into a sort of subgenre of branded content, which goes beyond the ubiquitous online video and brings the brand into consumers' homes with a physical product.
"It goes back to the idea that everything is an ad," says David Chiavegato, partner at Grip. "Anything that's communication, that has contact with a consumer whether it's a Facebook post, someone in customer service, a piece of packaging, a napkin or tray liner [is advertising]. And I think these extensions are just creating a larger sense of the brand's story."
Chiavegato believes that clients, like Kokanee, are open to these types of ideas (where the product is the content) because they are, for the most part, born as a social idea and this space has become a sort of "experimentation lab" for brands. "I think clients are more comfortable approaching it in a more experimental way in the social space, but I also think that they are getting closer to applying that sort of thinking to larger campaigns. Kokanee certainly has been a leader in that space, going back to [The Movie Out Here], because they're a challenger brand. And being a challenger brand, you're more open to trying things differently because the rewards can be that much greater."
As for how the agency gets to these ideas, Chiavegato says it's because Grip is "attuned to the social space" and has learned to listen to what consumers are saying online. For example, for the Pizza Hut Perfume, which was created in 2012, the brand's community managers wondered what it would be like to bottle the smell of its pizza and, as a joke, posted the idea to its Facebook page. Thousands of people chimed in, asking how to get their hands on a bottle. So the agency created a perfume.
"We're listening to what our consumers have to say," says Chiavegato, "and as a result we end up creating these products, programs or non-traditional approaches as a way to deepen the engagement and make them feel like they have a voice, that they're informing the brand and becoming a part of what the brand is doing."
"It's also a cultural thing," adds Stein. "[We're] listening to the consumer and trying to find insights and ways to connect with them, and that's really pretty much a part of who we are at Grip. I think this product development, or whatever you want to call it, is part of the culture now — it's finding remarkable, non-traditional ways to reach consumers."